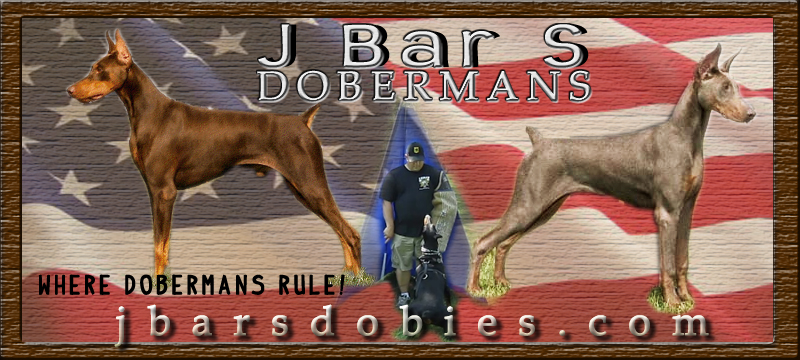 WHERE DOBERMANS RULE!!



We won't brag about the top dogs in our past pedigrees until we show you what our own dogs have done to continue the quality our families expect in their companion or work/show Dobe. We strive to breed for health and longevity along with solid temperaments. The Doberman is a working breed and temperament should be a primary consideration.



QUALITY ISN'T EXPENSIVE..... IT'S PRICELESS!! American Born and Bred


Our Dobermans are Vwd clear and DNA profile on record with AKC. They are bred to work, show and play - Much more than just a pretty face.



Doberman, Doberman Breeder Missouri, Doberman Pinscher Breeder Missouri, Dobermans, Doberman puppies, Doberman Pinschers, dog, Doberman Pinscher puppies, Missouri, Dobes, Dobermanns, dobermann

CONGRATUALTIONS TO our STARS and their families



| | | |
| --- | --- | --- |
| CH Echorun's Stormin Isabella (Bella) Congrats to our new Champion - Bella | Echorun's Black Ty No Tails (Tux) Takes reserve and 1 AKC pt first time out from 6 to 9 mo, Tux is an Eika son | Echorun's Black Shadow of Denim - takes win first 2 shows out for 2 points!! |
CONGRATULATIONS TO INTL/UKC/UDC CH JBARS SCHATZI WINDWAKER, CGC, TD2, SAR, BH, CD, ATT, FFB, VC, WAC and BOB at 2006 UDC Nationals and Best of Bitches at 2008 Nationals!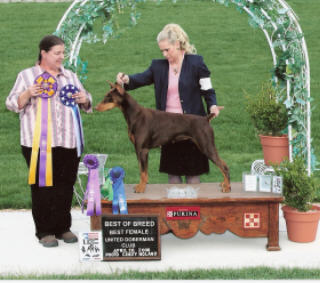 What a wonderful accomplishment for this beautiful red girl! Congratulations to Larry and Schatzi who have shared many wonderful wins and accomplishments on their journey together.


A dedicated Doberman Breeder and Lover - How could you not greatly admire such a noble breed. Dedicated, loyal, protective and bred to serve they have earned their place in both history and our hearts.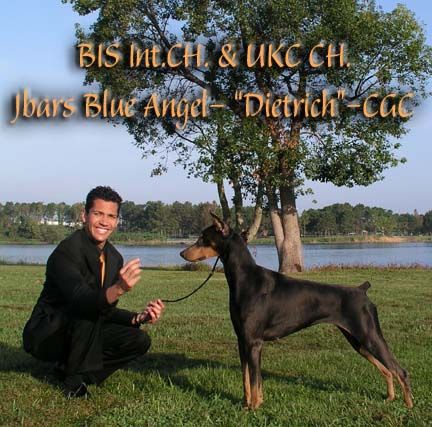 AKC, BIS Intl, UKC CH Jbars Blue Angel, CGC, TDI, WAC Dietrich is a beautiful blue girl who lives in Florida with her adoring owner, Logan who learned everything about showing with Dietrich. What a great accomplishment to take your first Dobe and win win your champinship. Dietrich was handled by Judy King who did a supurb job showing her and putting 3 majors on her very quickly in Florida with lots of competition.

What an exciting journey we when we begin working and showing our Dobes. They are just so versatile and creative. They Keep us laughing with their antics and I thank each and everyone of my families who share their warm wonderful stories with us.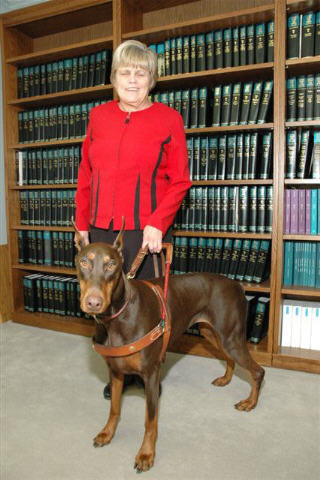 Jbars Reba of Southern Pride, CGC is our first pilot dog. Reba graduated from Pilot dog training and then went to live with her owner Becky F and Attorney for the Handicapped in Mississipi.

We would like to thank Joanna Walker who for many years headed the Pilot Dog program and was a great supporter of our Dobermans. It was very sad for us when she retired this past year. We can only hope that those who took over will continue to support Dobermans in their program.

Our hearts were broken this year when Reba ate some pine bark and was rushed to the vet for surgery. Reba underwent 3 surgeries in a very short period of time and passed on due to complications of those surgeries. It was our great priveledge to be a small part in Becky getting another guide puppy who is out of our Jbars Something to Talk About owned by Wanda M and Intl CH Bearcreek Quinnkastra Top Gun, CGC, BH, CD, T1, OB3, UCD, ATTS, ATT, WAC and High In Trial IPO Obedience at 2007 UDC Nationals. Becky has named her new puppy "Lucy" after another famous red head Lucille Ball.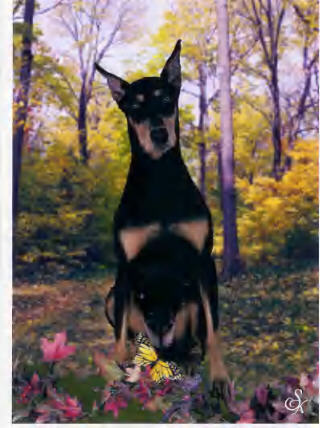 Intl Ch Jbars Portia Kye in the Sky, CGC, TDI, SARS, BH, CD lives with Larry and Schatzi. Portia is Linda's baby and they have really had to work hard competing with Larry and Schatzi. We are glad that they keep it a friendly competition.

Portia on 9-2004 at 14 months passed her SAR exam for cadaver and water find and shortly after that completed her live find. She is the youngest dog ever in the Arkansas SAR to be certified. Portia is a full year behind her big sister Scahtzi but that does not slow her down. Portia is a full litter mate to Reba. Way to go Linda and Portia!

As a dedicated Doerman Breeder and Lover - I have great respect and admiration for this noble breed. Dedicated, loving, loyal, protective and bred to serve, they have earned their place in history and in our hearts.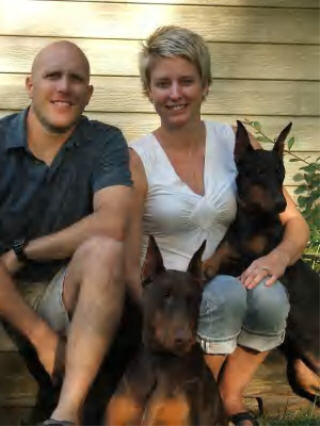 U-CD Jbars Southern Storm Brewin, CDX, RA, WAC, CGC, TDI "Storm" and U-CD Jbars Luck Be A Lady, CD, RN, WAC, CGC, TDI "Ava"; Humphrey Bogart, our rescue boy, WMX! (Who, Me? Excellent) live in Iowa with Kim and Derrick. As you can see they make a striking family.

Kim started working with Storm and then about a year and a half later called wanting a dog for agility training. Did we ever have a super agility prospect for her - Ava! She is fast as greased lightening, very agile and the biggest problem is keeping up with her forget getting ahead of her.

Because of her speed Kim said she will have to work more independently than most dogs as humans were just not made to move that fast. Kim said she not only moves fast but thinks even faster- she is an absolute riot and keeps me guessing.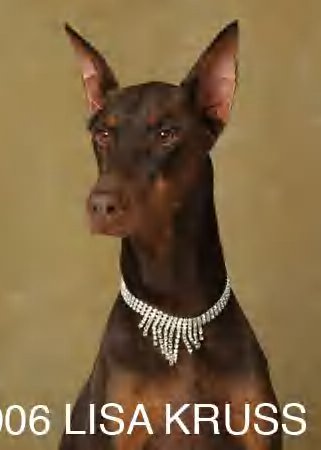 CONGRATULATIONS TO JBARS QUEEN ARWEN, CGC, TDI AT 15 MONTHS!!!! Way to go LInda and Arwen.

We are very proud of Linda as Arwen is her first Dobe so this is a really big accomplishment for them. We would like to thank Linda Y for coming down from Chicago to watch and help us at the Intl Show. Lexie now calls her "Aunitie Linda". They fell in love with each other. Lexie send lots of Dober slobber kisses to Auntie Linda and Arwen. Arwen also does some modeling of Dobe Jewelry. Way to Go!


We sleep in peace knowing that our faithful Doberman Pinschers are beside us to warn and protect us should the need arise. It is very comforting in these troubled times to know that should anyone be prowling around, our faithful Dobes will sound the alarm.

A gun can never give you this advanced waring and a Dobe can never be turned and used against you.

Don, Sue and boys are new to Dobes but quickly jumped right in. This is a picture of Sue and Tobi when they got their CGC - Tobi graduated from class with top ratings and earned his CGC. This was a first for Sue ad she was thrilled to have the opportunity to work Tobi.
As you can see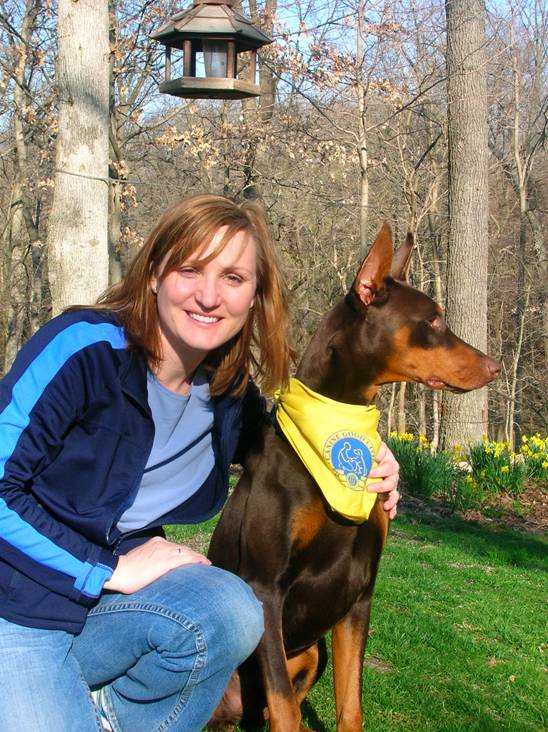 This site is dedicated to the Dobie families that share their lives with us and teach us more everyday about the ability, love, dedication and feeling of security that they bring into our lives.

All our Doberman's and puppies are registered with the American Kennel Club (AKC) and Pedigrees are posted on the web site for your review. All our Dobies are guaranteed FREE of the white (Z) factor.