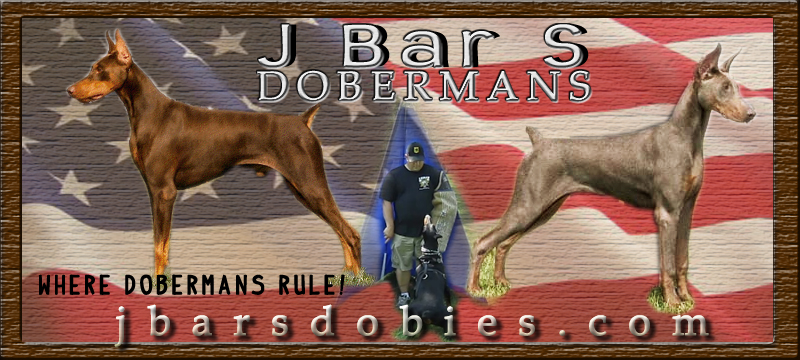 WHERE DOBERMANS RULE!!



We won't brag about the top dogs in our past pedigrees until we show you what our own dogs have done to continue the quality our families expect in their companion or work/show Dobe. We strive to breed for health and longevity along with solid temperaments. The Doberman is a working breed and temperament should be a primary consideration.



QUALITY ISN'T EXPENSIVE..... IT'S PRICELESS!! American Born and Bred


Our Dobermans are DNA tested with Embark and Doberman Diversity Project and DNA profile on record with AKC. They are bred to work, show and play - Much more than just a pretty face.



Doberman, Doberman Breeder Missouri, Doberman Pinscher Breeder Missouri, Dobermans, Doberman puppies, Doberman Pinschers, dog, Doberman Pinscher puppies, Missouri, Dobes, Dobermanns, dobermann

The amazing Grandsire to both our boys - Intl/Natl, UDC CH Omnia Paratus Navy Sea Cobra, BH, CGC, WAC, BSA V2 - Helio took BOB and group two at the Internatlional show in St. Louis at 5 months and won his Intl/Natl CH with a Group 2 placement. Helio Male Doberman Helio took Best Opposite Sex both days at the 2012 UDC Nationals and passed his PTT Nov 3, 2012 at 16 months he was Best Youth at the MCWDC Trial and passed his YTT.


Click here to see Helio's Pedigree


Intl, UDC CH Omnia Pratus Navy Sea Cobra,
WAC, BH, CGC, BSAV2 - Helio at 8 weeks
already retrieving!!!
Helio International show. Helio is the grandsire to both Stone and Raptor
Helio shows his fight




Intl CH Echorun's Notorious Stone Cold Marksman, WAC, ATT -
His first UDC conformation show 4 mos
Stone at the Intl show at Purina Farms Graysummit, MO
Stone at 12 months showing his fight - so much like his grandsire Helio Click here to see Stones's Pedigree


Intl CH Echorun's Lethal Desert Black Hawk, WAC, ATT - Our baby
Raptor wins 2 Best Bred by at International show 7-2019
Raptor growing up for sure 12 mos - another Helio grandson
Click here to see Raptor's Pedigree






We DNA test with Embark to continue our goal of maintaining as much diversity as we can in our program and to not double up on any negative genes.
We are an AKC breeder of Merit

All our Doberman's and puppies are registered with the American Kennel Club (AKC) and Pedigrees are posted on the web site for your review. All our Dobies are guaranteed FREE of the white (Z) factor.