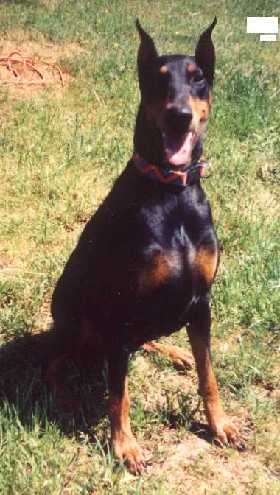 NASHLYN'S KEETA OF CRYTONITE - Keeta 5-97 TO 1-07

Keeta's strong show breeding coming down through Ch. Amulet's Luka of Sno Glenn and one of the best producing sires ever "CH. Brunswig Cryptonite". Cryptonite himself produced over 107 champions. This is a tremendous show bloodline and certainly stamped itself down forever in history in the Dobie show ring.

She came to us when she was 7 months old. She had lived in a kennel and I was concerned about her bonding. Little did I know what a wonderful solid temperament she had and she decided that I was her personal responsibility.

Keeta was 26" and 80 lbs and 100% Tomboy. She should have been a drill sargent. Regardless of what she is doing she gives 110% all the time - every time. Many of the top champions you see today trace back to this bloodline. Keeta was vWD carrier

Keeta retired at the age of 5. She ran the ranch and chased rabbits her favorite past time next to guarding the premises. When she goes outside she immediately starts barking as if to forwarn anyone or anything out there that she is coming and to beware.

Be sure to see Dietrich - a Keeta girl on the home page.
Click here to see Keeta's Pedigree
Click here to see Keeta Puppies



Wohlgemuths Fire Me Up - Flame 5-97 to 2-04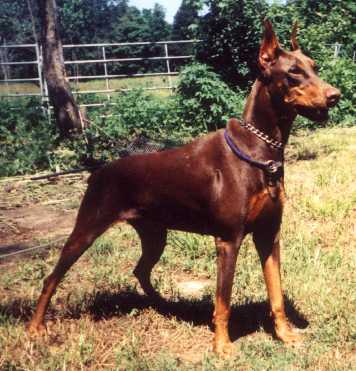 Flame is also Cryptonite breeding with CH Brunswig Cryptonite and CH Dob Mann, both out of CH Amulet's Luka of Sno Glenn breeding. Flame is 25 1/2" and 78 lbs and is 100% Prissy Lady. She is georgeous, knows it and loves to flaunt it. Flame is very intent but she does not like to get dirty or sweaty. She always wants to be perfectly groomed and looking her best. Flame is vWD carrier

Flame also retired this year. She was retired at 5. Just before turning 7 Flame left us to try to go on without her. Our hearts are so broken and our spirits are torn. We were not ready for her to go to Rainbow Bridge. Our precious Flame wait for us there. We will be coming to you and you live daily in our hearts.

Be sure to see Schatzi - a Flame girl on the home page.
Click here to see Flame's Pedigree
Click here to see Flame Puppies



BRIARWOOD RICHES STORMS ECHO - ECHO 12-2000 -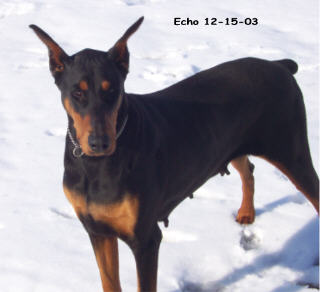 Echo brought a whole new dimension to our breeding program. She showed us a quiet strength which opened a whole new world for us. She ws focused but without the driving intensity that Keeta and Flame had, yet she consistently proudced puppies that were solid, confident and calm about their work.

Our families with Echo puppies will tell you that there is no shyness in them but a calm steady dependablity and strong work ethic. Echo brought us our beautiful heads that we feel stand out in a crowd.

Echo retired at 5 and now lives in Tennesse with Darlene, Mitch, KBar (a Gunner puppy and Boo Boo. I understand when Mitch is gone Echo gets to sleep with Darlene. That she feels Kbar is a pain and just barely tolerates him.

Click here to see Echo's Pedigree
Click here to see Echo Puppies



Intl CH Jbars Skylark Summer Shasta, CGC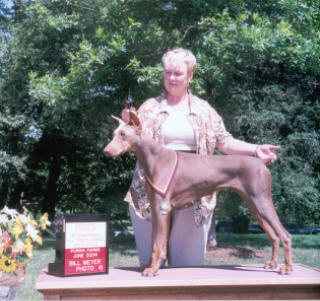 Shasta has her own set of rules. It goes like this - If it is yours I get it! If it is mine you can't have it! Look at me I am very special! I tell you this girl keeps us in stitches all the time. You just never know what she will decide to come up with next. She is always thinking.

We are very proud to announce that Shasta won her Intl CH Oct 2004. She won her Natl puppy CH in June of this year and then came back in October to achieve her Intl Championship. Congratulations Shasta. We love you!

She is almost 26" and 70 lbs. She is a beautiful fawn girl who loves attention and keeps us guessing at what her next trick will be. What an attitude on this girl. Just show her a treat and she will freeze. She is very exciting and we are very proud of her. Shasta is Vwd Carrier, OFA fair

Click here to see Shasta's Pedigree
Click here to see Shasta Puppies



Fiebe's Toffee Belle- 3-2000 -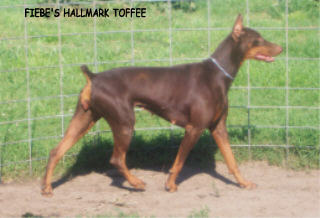 Fiebe is a full sister to Lexie's Dam. She came to us later in her life but she ws a very velcro dog. She had drives that were over the wall so she was not an easy dog to live with if there was anything around to chase.

This is a strong working pedigree. I know the Fiebe's Dam and Grand Dam and love the strong work ethic in this line. The dogs from this line have been very strong and athletic capable of succeeding in obedience, agility or protection work.

Fiebe is Ava, Faith and K Bars Dam and that is where all the fire comes from Kim. Now you know. Ava is learning agility, Faith is starting her obedience career and K-Bar will we are not sure what Darlene and Mitch have in store for K Bar.

Click here to see Fiebe's Pedigree
Click here to see Fiebe Puppies

Dobewan Repoed My World Lexie- What a beautiful black girl. Her daddy is out of the same kennel as Keeta's sire so we are very excited to have her join us on the ranch. We have been impressed with the longevity and over all health of this line. Lexie's grandmother will be 10 this year. She has 4 on her sire's side that are over 10.

On her Dam's side she goes back to the Great CH Marienburg's Repo Man who has been one of the most talked about dogs to come along in a while.
He was DPCA National Best of Breed - 2002
Currently Among the Top Five of All-Breeds
Number Two Doberman - 2001
Number One Doberman - 2000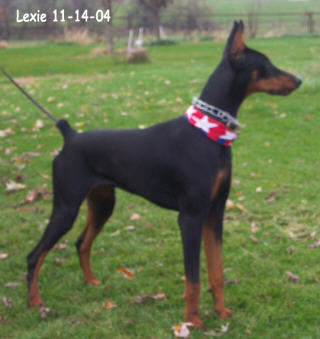 Lexie is full of herself and continually sniffing the ground and air to see what she can find or get into. She has just outstanding play/prey drives and we hope to be able to put these to full use. She thinks everyone she meets is just there to admire her, and we agree. The above picture was taken at a Schutzhund club meeting where we gave her a little taste of working!!!

We are so glad to have her with us. Between her and Shasta you just never know what they will get into next or what new antic they will dream up to keep you laughing.

Click here to see The studs we chose.