QUALITY ISN'T EXPENSIVE..... IT'S PRICELESS!!


We won't brag about the top dogs in our past pedigrees until we show you what our own dogs have done to continue the quality our families expect in their companion or work/show Dobe.

Our Doberman are great Showing, working or if you just want a wonderful family companion our dogs are exceptional. Our dogs go everywhere with us and we love showing off their loving temperaments, clown like antics, beauty and grace.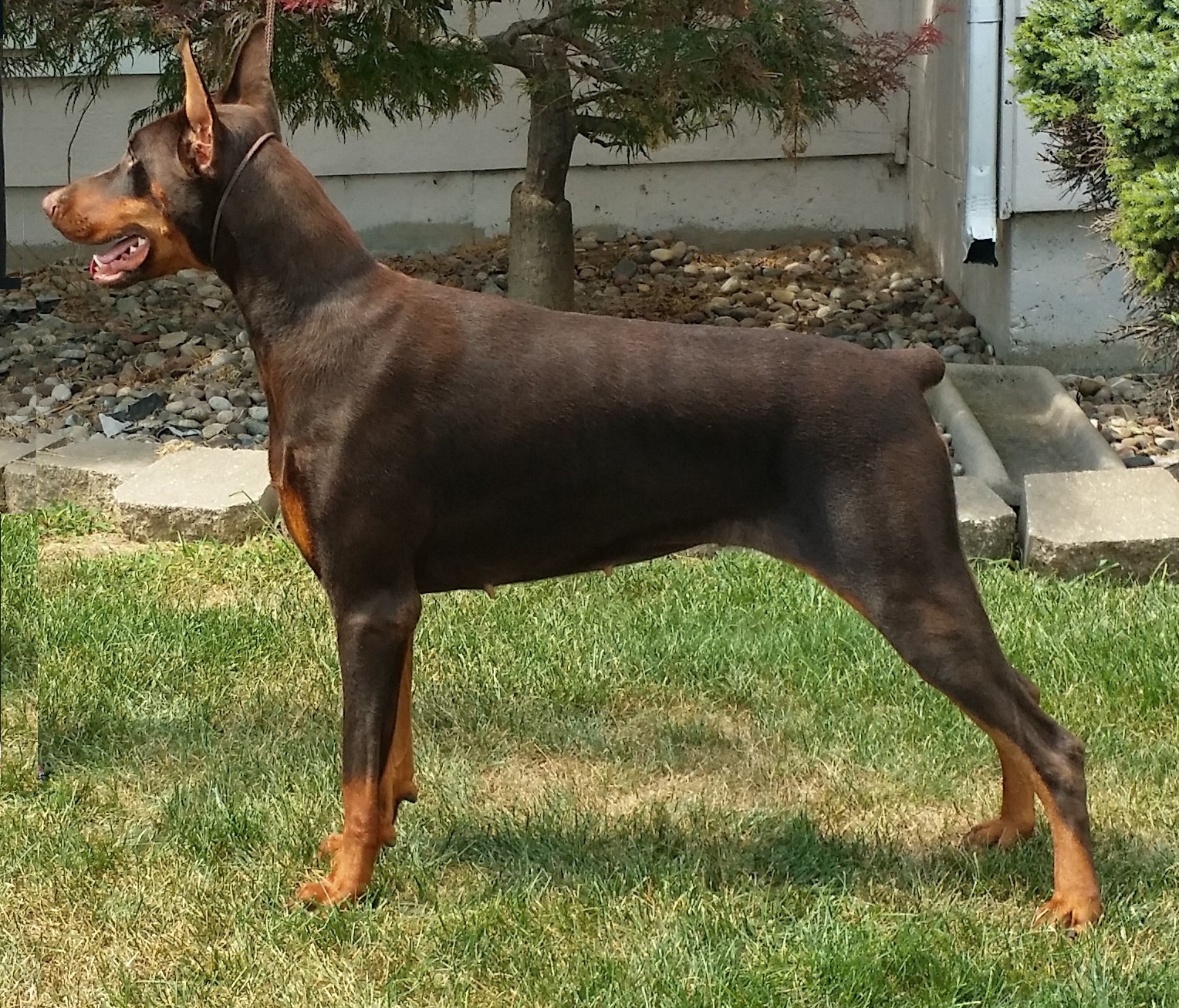 Intl CH Echorun's Notorious Outrageous Koko Channel - a Helio - Rayna daughter

.

Koko is Vwd - CLEAR, Cerf - Normal, OFA Good - Elbows normal, Cardio ausculation and troprion test normal, DCM DNA PKD4 Neg, DM negative
Click here to see Koko's Pedigree

Echorun's High Steppin on the Runway London "London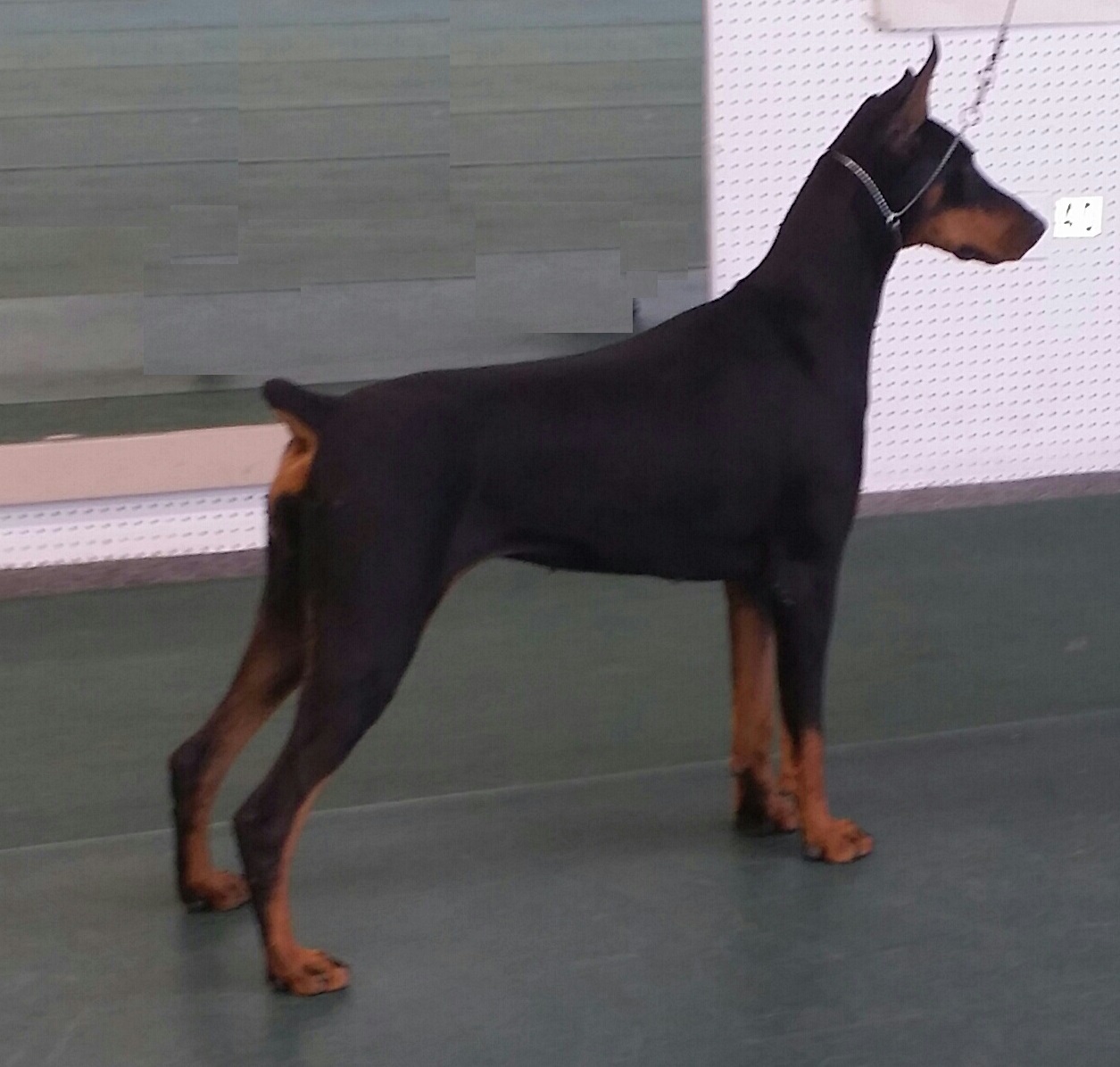 Our little London is a Helio-Remi daughter and she took the show world in stride as at her first show she went best in show puppy at the Intl show at only 5 months.

She is one beautiful stong puppy and she is fearless just like her sire. She has now started her work toward her bite work.

London is Vwd clear by parentage, DNA PDK4 Neg CERF normal,

Click here to see London's Pedigree

Dobewan's Reign of Terror (Rayna)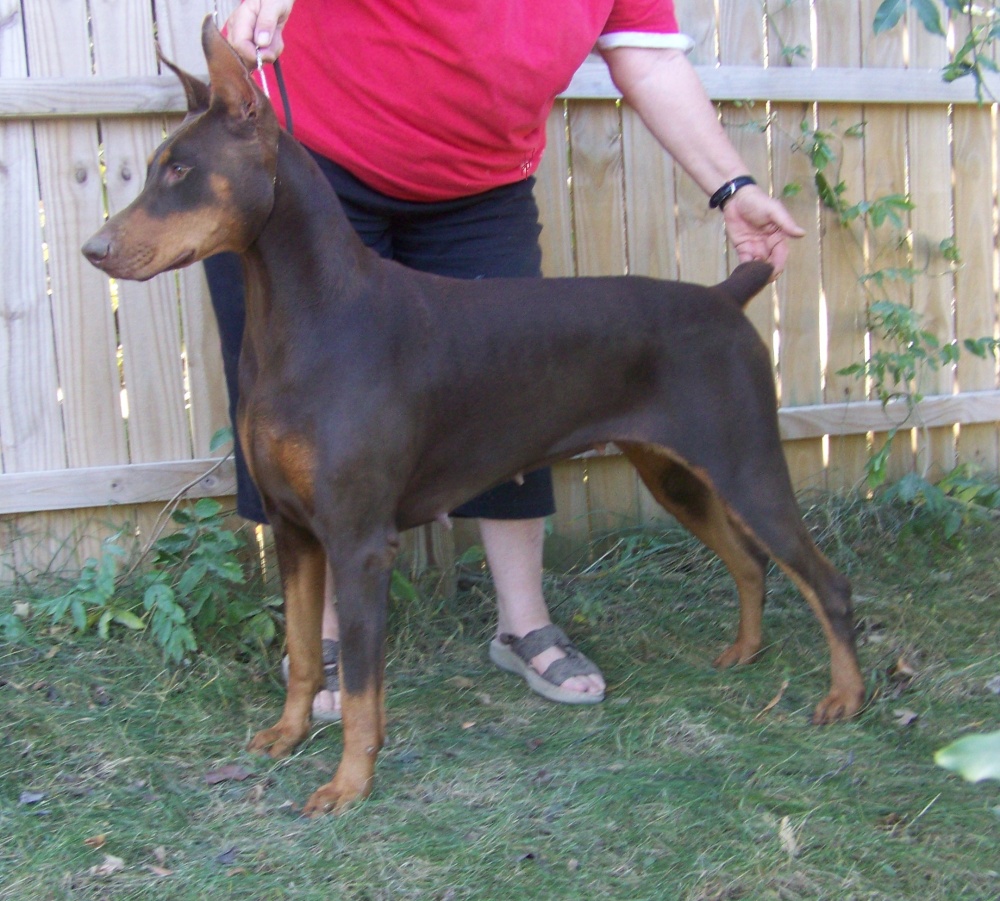 Our little Rayna is a little fire ball. This red girl is out of Shrock's first litter and was our pick to keep. She made an impression from the moment she entered the world. She has beautiaful bone and a strong Doberman head. She is the dam of our Koko Channel

OFA Good, PDK4 neg, Vwd carrier, CERF normal, Echo normal 11-12

Click here to see Rayna's Pedigree

Echorun's Notorious Outrageous Koko Channel (Koko)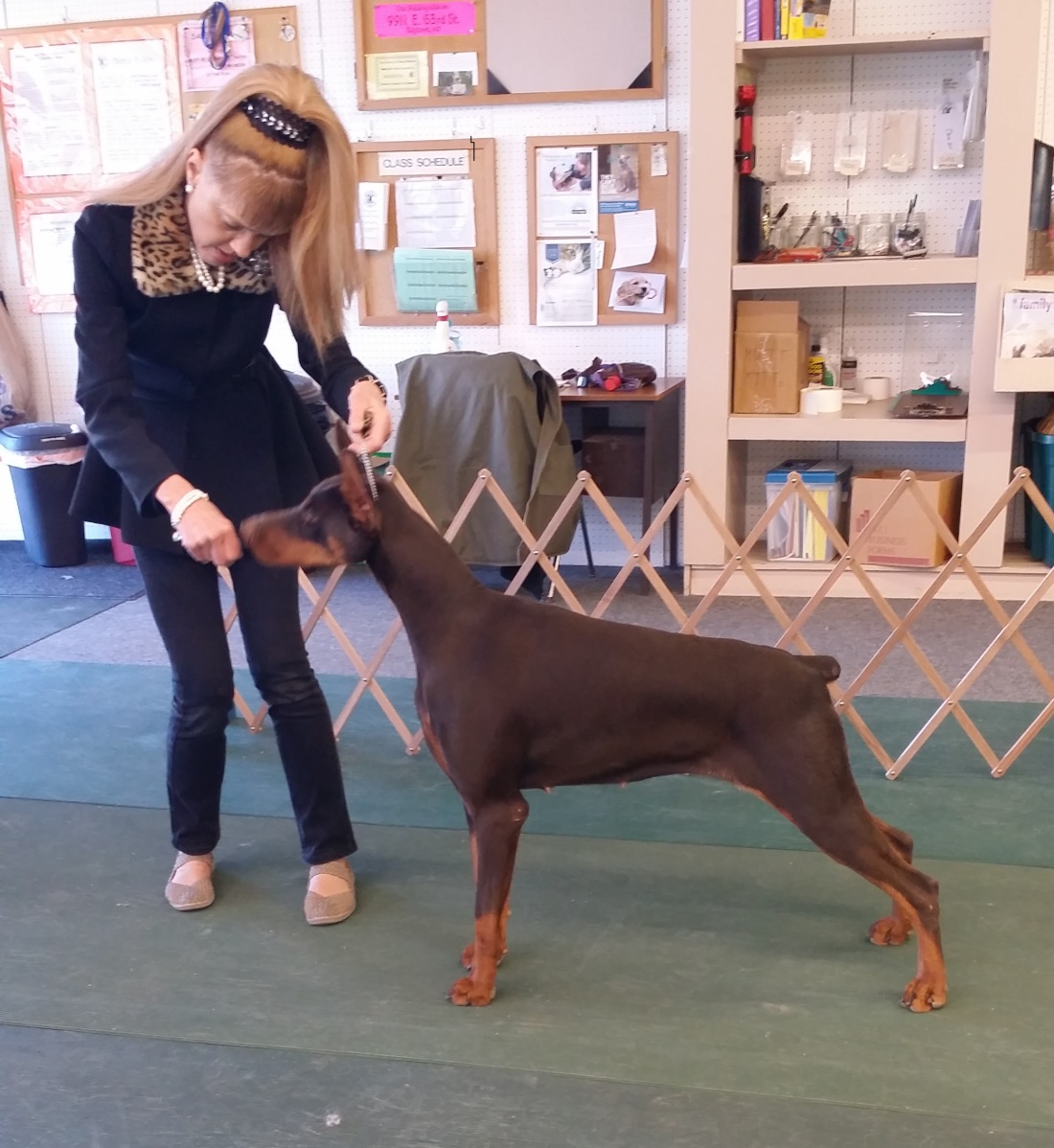 All we can say is WOW!! This Rayna girl is something else. Koko is from our 1-30-13 Litter and is our first Helio daughter

London will be shown and has already been BIS Puppy at the Intl Show and UDC Best puppy also passing her puppy TT

Vwd clear by parentage - Hip Prelim good , PDK4 neg by parentage

Click here to see Koko's Pedigree

Echorun's High Stepping on the Runway London (London)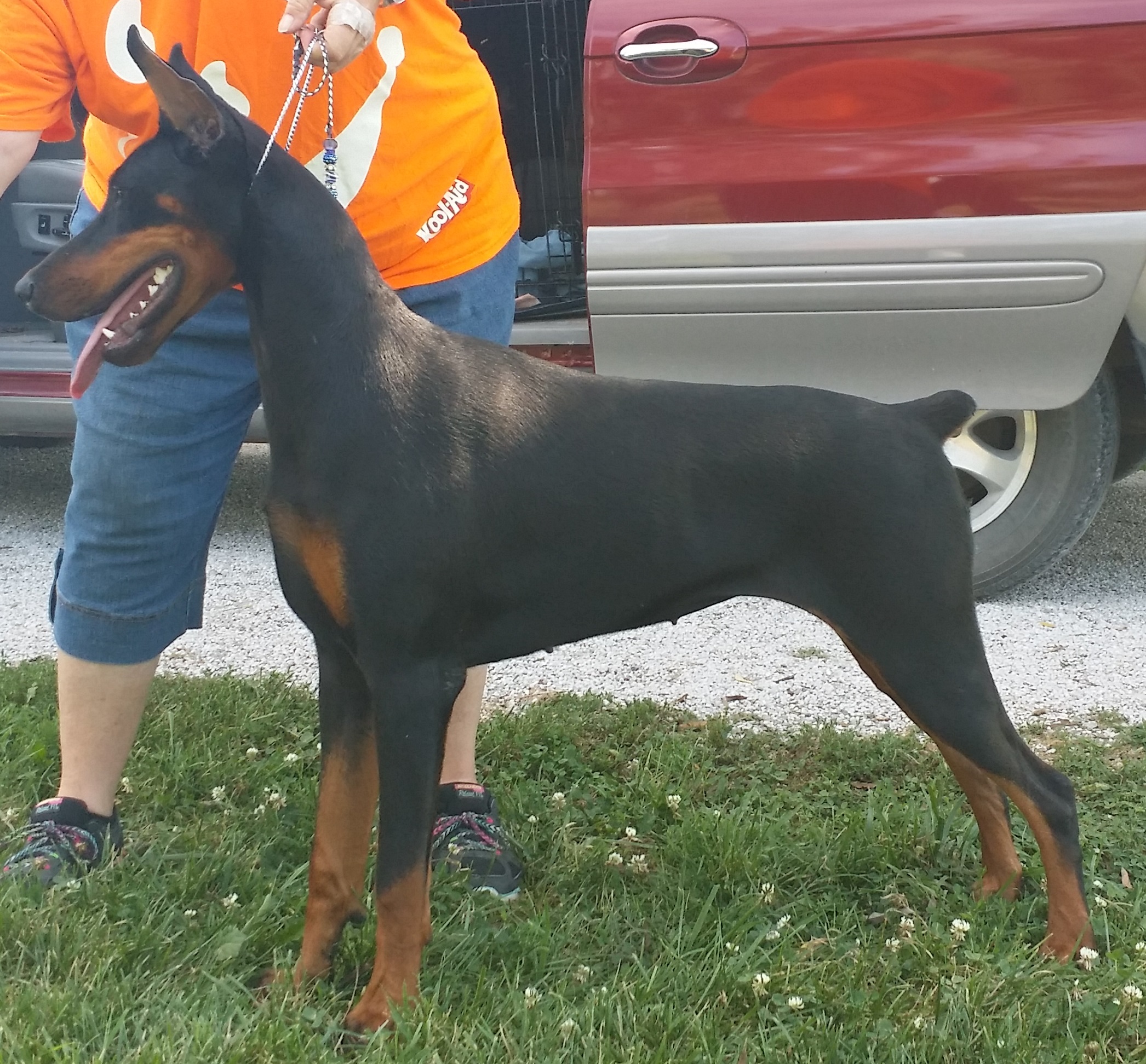 All we can say is WOW!! Another great Helio daughter 11-2-2014 our of our Echorun's Fire Storm v Dobewan - Remi. London is our 5th generation from this line

London will be shown by our handler Paula who is getting her ready

London is Vwd clear by parentage, PDK4 neg by parentage .

Click here to see London's Pedigree



Doberman, Doberman Breeder, Doberman Pinscher Breeder, Dobermans, Doberman puppies, Doberman Pinschers, dog, Doberman Pinscher puppies, Missouri, Dobes, Dobermanns, dobermann

Our dogs are ALL guaranteed FREE of the white factor.

Click here to see our Girls from the past