WHERE DOBERMANS RULE!!



Doberman Breeder - Breeding both Euro Top Working Doberman's and American Show lines. We won't brag about the top dogs in our past pedigrees until we show you what our own dogs have done to continue the quality our families expect.

Pamelot' Daredevil (Shrock) -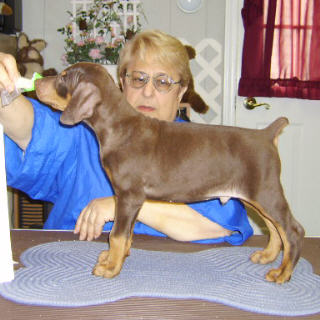 Our newest addition is here!!! Pamelot's Daredevil (Shrock) shown at 8 weeks arrived at the Delta airlines counter March 8 at 3:08 in the afternoon and we are so thrilled. He just came marching right out of the crate as if to say "Hey I am here!- so far nothing has phased this boy.

We want to thank Pam DeHetre for this wonderful boy and what a big future we have planned for him. He will be showing, working obedience, tracking, protection and anything else we can manage.


This picture was taken a couple weeks later at about 10 weeks. He just had his ears done. As you can see he is coming together very nicely. We love his bone and character. He is a little fire ball. We are going to have tons of fun with this puppy.

He wanted to play on the way home from the airport and I had to stop and get him some chew toys to keep him occupied. He just marched right into the store - the automatic door did even cause him to pause. He just marched right in big as life.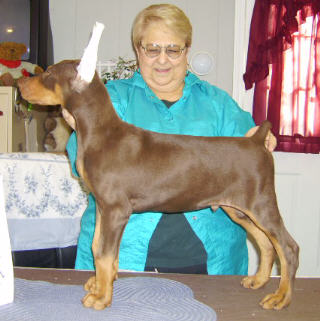 Shrock is out of CH Pamelot's Shrek and Pamelot's Roxy v Shaker. Both are line bred on CH Briarwood Storms' A Brewin (Volt). I have worked with and studied this line for years and love the show and working abilty which is very strong in this line. Great bone, beautiful heads and will truly completment my Volt and English pedigrees.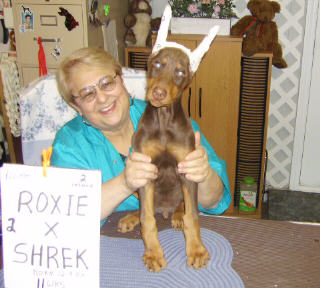 Notice how Shrock always tilts his head in his sitting pictures. Very cute and very inquisitive boy.

Shrock is Vwd Clear

Click to see Shrock's Pedigree

Click here to see Shrock's baby pictures as he grew