WHERE DOBERMANS RULE!!



Doberman Breeder - Breeding both Euro Top Working Doberman Pinschers and American Show lines. We won't brag about the top dogs in our past pedigrees until we show you what our own dogs have done to continue the quality our families expect.

Omnia Paratus Navy Sea Cobra - Helio -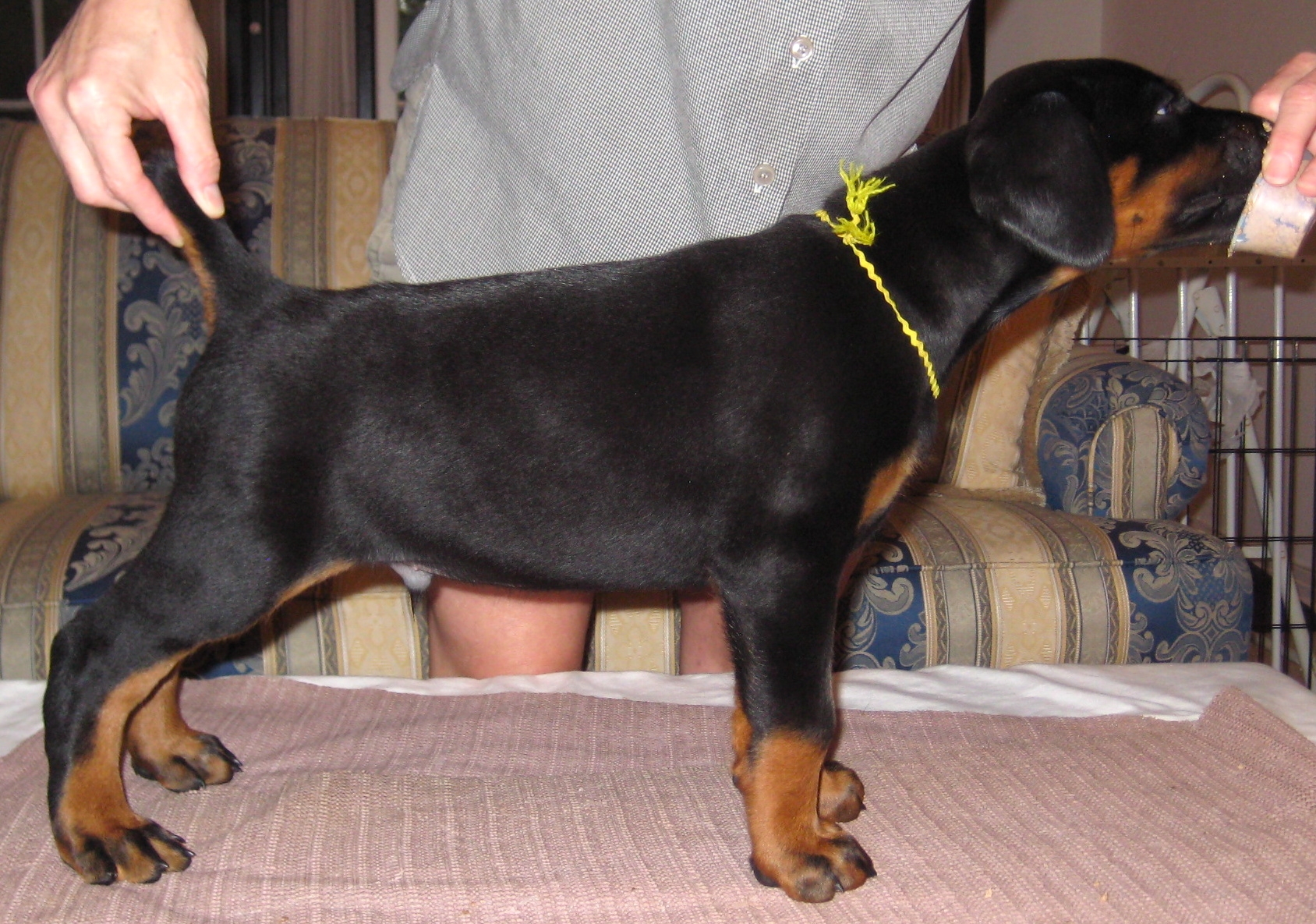 Helio what can I say - . He brings a strong Euro pedigree that goes back to some of our Gunner boy's pedigree of the top Euro doberman's. We shared in his birth and watched him as he grew. For those who do not know Omnia Paratus - is the naval slogan meaning Always Ready - This fits right in with the War Memorial in Guam - Always Faithful to honor the Dobermans that served this country during War Time - what a great name to start. The Sea Cobra is a naval helicopter used during the Vietnam War. It was rough, tough and greatly feared. Through his kennel Omnia Paratus and his name, we honor the men and women who serve our country.

Our Little Sea Cobra - carries on a proud American heritage as well as a wonderful European pedigree. His sire and dam were imported here by Laural and I got to meet and see both of them when they were still very young. Laural brought them to UDC Natls here in Warrensburg.

Helio has both solid conformation and working dogs in his pedigree. We hope to work and train him to follow in in his sire and dams footsteps. Great dogs and a winning combination - conformation and working.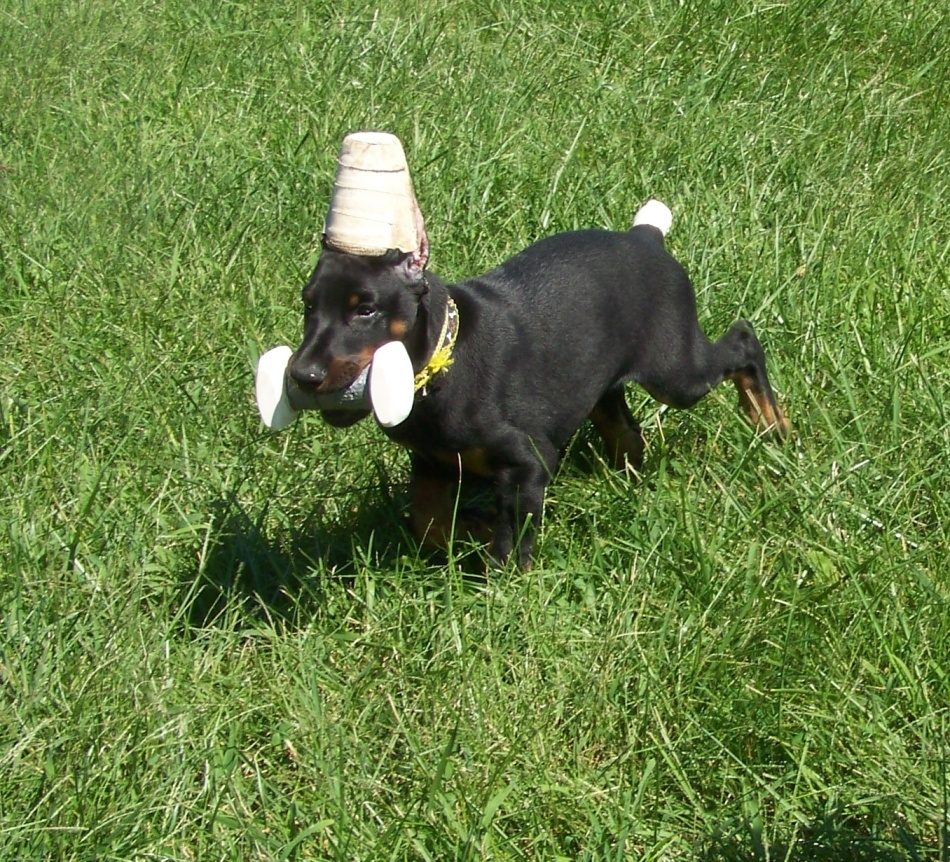 His Sire - Natl/Intl, UKD, UDC CH SEMPER FIDELIS BELLAGIO (Solomon), CGC (AKC), BH & AD (SCH), YTT & ATT (UDC), WAC (DPCA), RNA & BNA (AKC) *He also has SAR experience and is currently started on Narcotic Detection.

His Dam - Natl/Intl CH, UKC CH TEODORA BETELGES (TORAH)CGC (AKC), BH & AD (SCH), TT (UDC), WAC (DPCA), ***EXPLOSIVE DETECTION CERTIFIED (United States Police K-9 Association and the American Detection Canine Association). *She also has SAR experience before we concentrated on the EDC.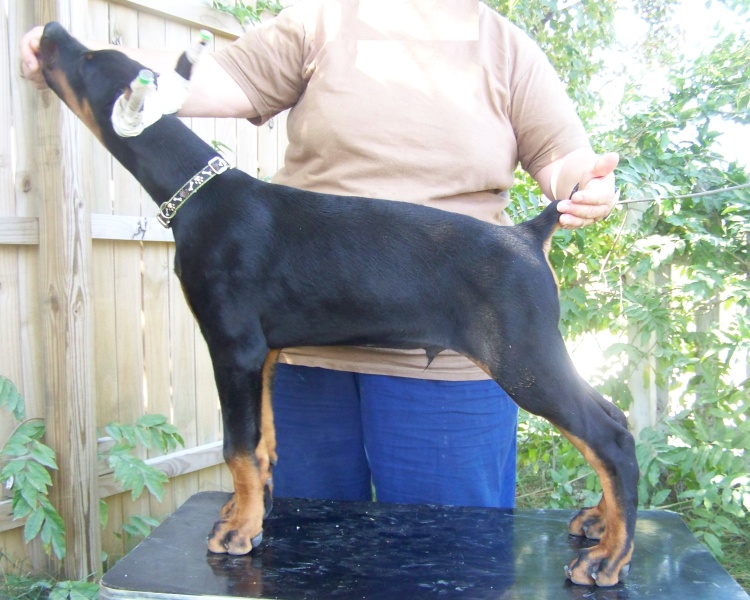 Helio - Omnia Paratus Navy Sea Cobra will strengthen our working lines and we hope to pick up a few new titles on this boy. Thank you to our good friend Laural of Omnia Paratus Dobermans for helping us pick this boy!!!

We are having a ball with this puppy - He goes everywhere and takes everything in stride. He chases the big dogs, loved to do everything and anything you ask of hiim and then just plops down for his nap. He is learning to have his play time and his nap time in his crate and settles down even with people around until you get him out again. Very nice attitude all the way around. While we considered his pedigree and the accomplishment we want to continue on and live up to that proud heritage of the working Dobermans. His name is Operating from USS Denver and then from USS Cleveland, in August 1972 HMA-369 AH-1J Sea Cobra helicopters attacked North Vietnamese water transport targets

The U.S. Marine Corps' interest in procuring a dedicated attack helicopter came after observing the Army's AH-1G Cobra in action in the skies over Vietnam. Preferring a twin-engined version for improved safety in over-water operations, Marine aviation leaders also desired a more potent turret-mounted weapon.

In honor of the Twin Turbine Sea Cobra our little Sea Cobra is also dual powered, always faithful - Always Ready.

Health testing to follow at approved ages - Helio is Vwd clear by parantage

Click to see Helio's Pedigree

Click here to see Helio's baby pictures as he grew