Doberman Breeder - Breeding both Euro Top Working Doberman Pinschers and American Show lines. We won't brag about the top dogs in our past pedigrees until we show you what our own dogs have done to continue the quality our families expect.

Intl CH BearCreek QuinnKastra Top Gun, CGC, BH, CD, UDC CD, T1, OB3, VC, ATT, ATTS, WAC High IPO Obedience trial dog UDC 2007, High Open in trial 2008. (Gunner)-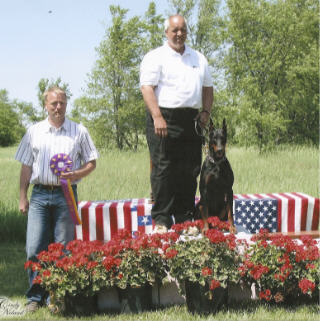 Gunner what can I say - . He brings a top working dog pedigree to our program from some of the top Euro doberman's. We feel very fortunate that at 12 months we found David Stroff to train him for his Schutzhund work. Gunner is truly a one of a kind Doberman.

Gunner carries some of the top working dog European bloodlines of Intl CH Quinn's Nobili Nati Sch3, IPO3, Intl BDSC CH Guy's Hilo v Norden Stamm, SchIII, and of course - CH Chalmar's The Big Red One SCH III, AD, APT, V1A,D-CD, BH, ROM;. Bro is listed among those dogs in the longevity index on the DPCA web site and his sire lived to 11.5 years. Great stud dogs great protection dogs!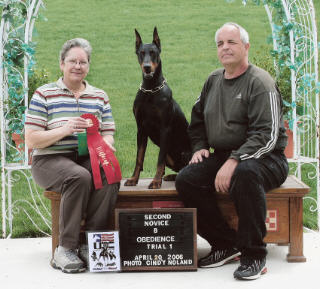 He also has two of the all time great dams in his pedigree both from the "K" litter of Vom Norden Stamm - Kalina vom Norden Stamm, IPOIII, FLL, SCH III on his dam's side and Kastra vom Norden Stamm, SchIII, ANG1A on his Sires side.

Gunner's sire Morgana's Forever Chasin Phonix, AKC ptd, SchH II, FH, AKC-CDX, D-CD, T2, AD, GFFB-E1A, WAC, VC, ATT, CGC (1/14/98~2/7/07) was put to rest in Feb 2007 due to injuries.
Gunner is a really fun dog to work with. He thinks about things from one practice to the next and always finds a way to make you laugh at his antics, like when doing UDC open he took the broad jump, the high jump and the broad jump again just to throw in a a little humor and to make sure I did not take things too seriously.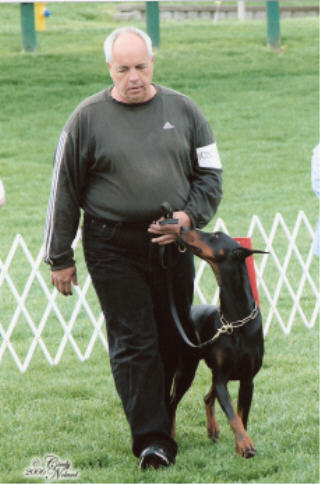 As you can see from his titles we do not want to live on dogs of the past. Gunner is working hard to carry on the legacy left to him through his outstanding pedigree.

We just can't say enough about his attitude and work ethic. Each day he shows his heart and drive for this job. He never fails to give me less than 100% regardless of what we are doing that particular day. He is always eager to learn, anxious to get busy and thinking about his next surprise.

In 2007 he was outside at Christmas for a few minutes to potty -we had an ice storm and he sustained a serious back injury which left him paralized. We have pursued Chirporactic care with him and am very happy to say that he is making a comeback. It was a thrill to see him eager and able to show at the UDC 2008 Nationals in Warrensburg and do well even in open where he had to jump. Thank you Dr. Myers of Concordia Chiropractic for taking care of our Gunny Boy and puttinghim back together!!


| | |
| --- | --- |
| | |
Gunner stands 27 1/2 inches and is 88 lbs. He is vwd clear, thyroid normal, cerf normal, holter normal 1-09, echo normal 4-09.
Gunner stands at stud to approved bitches.

Click to see Gunner's Pedigree

Click here to see Gunner's baby pictures as he grew